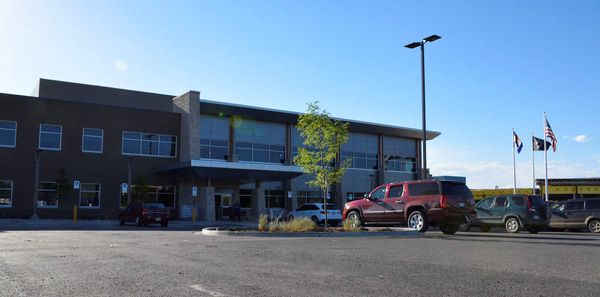 Southwest Health System Retail Pharmacy combines high quality products with personalized care. Our knowledgeable staff is happy to help you with any questions you may have. We strive to help you reach your health and wellness goals.
What Our Customers Like Most:
Customer Service
Professional Pharmacy
Located in our medical office building with our medical providers
Kelsey Gilbert
PharmD
Kelsey Gilbert was born and raised in the Mountains of Southwest Colorado. She attended the University of Wisconsin Madison where she received a Bachelor of Science in Dietetics and then went on to the University of Colorado for her PharmD. She enjoys skiing and hiking in her free time. Her favorite food is pizza.
Marc J Meyer
BPharm, RPh, CIC, FAPIC
Marc Meyer has been a clinical pharmacist for the past 30 years for Southwest Health. For the past 19 years, he has served as an infection preventionist and the system's Director of Infection Control and recently added the Director of Pharmacy to his duties. He is a member of SHEA and SIDP, an APIC member and Fellow, and is board certified in infection control and epidemiology. Marc also consults for the CDC on small hospital antibiotic use and as well as the Pew Charitable Trusts. For this work, in June 2018, Marc received the APIC Heroes of Infection Prevention Award for Advocacy and Influence. Marc was recently asked to serve on the Joint Commission Stewardship Advisory Board for the next 2 years and has presented to the Joint Commission Expert Panel on Stewardship. Marc grew up on a farm in Kansas, went to undergrad at the University of Kansas, pharmacy school at the University of Wyoming and did post graduate work at Idaho State University. He loves fishing, drift boating and wildlife photography.
Jennifer Cropp
PharmD
Jennifer grew up in Cortez, CO enjoying all that the area has to offer including hiking, camping, and fishing. She attended Southwestern Oklahoma State University and obtained her Doctor of Pharmacy. She and her husband then moved to Sitka, Alaska to practice pharmacy and to experience a little adventure. They decided to move closer to home and raise their children in the same great area they were fortunate enough to grow up in. Jennifer is happy to be able to work with and help those she can in her hometown.
Neal Hurst
PharmD
Neal Hurst grew up in the four corners and was anxious to return "home" after graduating from the University of Wyoming with his Pharmaceutical Doctorate in 2011. He began his professional work in retail as a staff pharmacist and then as a pharmacy manager. He joined Southwest Health in 2012 as a fill-in pharmacist and transitioned full-time in 2016. Neal enjoys the intellectual challenge the hospital setting offers and the one-on-one interaction with patients and health care providers. "It's a great place to work!" Neal enjoys baking, making PVC pipe creations, and spending time with his wife and three boys.
Jade Bryant
PharmD
Jade Bryant graduated from the University of Colorado School of Pharmacy in 2017. She then completed a one year residency at Cheyenne Regional Medical Center following graduation and has been working at Southwest Health System since finishing her residency. She is a Board Certified Pharmacotherapy Specialist and serves as the preceptor for pharmacy students who complete rotations at the hospital. She enjoys living in the Southwest and when not working, she likes to spend time traveling and hiking with her husband, Tyler, and her dog, Tabor.
Shawna Lewis
CphT
Shawna Lewis has been a certified pharmacy technician for the last 12 years. She has worked 10 years at City Market Pharmacy and 6 years at Southwest Health System. She grew up in Cortez and enjoys the outdoors, mountain biking, hiking, and spending time with family and her dogs.
Natalia Laboto
CphT
Natalia Lobato is a certified pharmacy technician since 2007. She completed a pharmacy technician program through San Juan Basin Technical College in Mancos, Colorado. She has furthered her education through San Juan College, she has also obtained her certified coding associate through AHIMA. Natalia enjoys spending time with her family and enjoys the outdoors.
Barbara Martinez
CphT
Barbara Martinez was born and raised in Cortez, Colorado. Other than briefly living in Greeley, Colorado while attending UNC and a couple years in Grand Junction, Colorado, Cortez has always been Barbara's home. Barbara received her CPhT in 2005 after attending San Juan College in Farmington, NM. She went to work at the Cortez City Market pharmacy soon after. Barbara worked retail pharmacy for City Market in Cortez and the Grand Junction area for a total of 10 years. While in Grand Junction she took a training position that entailed some traveling within the state. This gave her the opportunity to work in and visit every City Market Pharmacy in Colorado. She took a short leave from pharmacy and held a position at a local dentist office for four years before coming to work for SHS in May 2018. Barbara currently serves on the SHS customer service task force. She is also working on getting her Sterile Compounding Certification through ASHP. Outside of work, Barbara is busy being a wife and a mother to three children.
Jamie Wells
CphT
I have been an employee and technician at Southwest Memorial Hospital since 1991. I received my pharmacy technician certification in 1998. I am originally from Wisconsin and traveled and lived abroad until my family settled in Cortez in the late 1960's. I received a Bachelor of Science degree in Housing and Interior Design from Colorado State University in 1985. I have been married for 15 years. My husband and I helped design and build our lovely little straw bale house near Mesa Verde National Park in 2007. We enjoy travel, cycling, skiing, and hiking and spending time with family. I have two nieces, three nephews, and one grand nephew.
Taryn Farnworth
CphT
Taryn Farnworth has been a certified pharmacy technician for the past four years. Taryn grew up in Ely, a rural mining town in North Eastern Nevada. In October of 2014 she moved to Cortez Colorado where she began working as a retail pharmacy technician and gained Certification through PTCB in July 2015. Taryn has been working for Southwest Memorial Hospital since June 2018 where she has gained hospital pharmacy experience. Taryn is devoted to providing excellent customer service and enjoys having the opportunity to fully utilize her skills to make a difference for her patients, her community and her company.